Ads let you reach out to your target audience at large. Digital ads let you focus that outreach individually. Every device that a person uses becomes a canvas for your brand to beckon their attention towards itself. Every interaction of theirs can become a shot in the arm for your online business with the right ad.
QuikTek Info's eCommerce management services will provide the PPC ads that build your leads. We will help you capture the flourishing online ad landscape through all varieties of digital marketing avenues. We leave no marketing platform untouched in helping your brand get recognized by your prospective buyers.
We are here to give the thrust to your online store's market expansion regardless of your platform of choice. Every ad will be created with your business objectives in mind. The ads will cover every format available.
They will be backed by a well-thought out marketing strategy that caters to your customers' specific interests and tastes. They will also be tasteful to their eyes with beautiful elements that carry the information across flawlessly.
With us as your eCommerce PPC agency, your CTR and conversions will touch new highs. Your brand value, trust, and visibility will also join them in their expansion. The gap between you and your competition will widen as you surge ahead of them. And we'll make sure your every investment into your marketing campaign comes back in the form of excellent Return on Ad Spend (RoAS).
Performing PPC By A Proficient eCommerce Management Company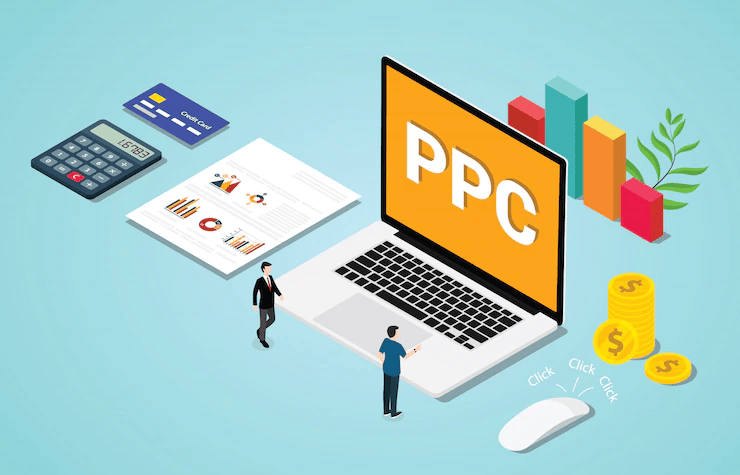 There is no stopping the growth of online shopping; the space is seeing unstoppable growth every year. Your online eCommerce venture can ride this tide to success with the targeted, all-encompassing ad campaign by our eCommerce PPC services.
We cover the factors about your eCommerce store that determine the inflow of organic traffic to it. These include keyword research and inclusion, product description writing, Search Engine Optimization, platform-specific search algorithm optimization, image editing, thematic brand storefront creation, etc. Our eCommerce ancillary services will bring your eCommerce store's brand to light without additional effort.
The heated competition of the eCommerce world, however, demands that you put in a lot more effort to get noticed. Languishing at the back of the field due to organic promotional methods taking time to yield results isn't an option. You need our eCommerce PPC services to keep pace and overtake the competition to the sale.
With paid advertising, you reach out to the customer directly instead of waiting for them to reach you. You needn't rely on the happenstance of a visitor landing on your site after they've searched for a product.
You get to proactively showcase the value proposition of your business to them from the moment they lay their eyes on the ad. Simple, one-click ads will bring them to your store's doorstep instantly.
Every eCommerce platform presents opportunities for their sellers'/vendors' brand and product promotion. They each have their proprietary algorithms defining the search results. Our eCommerce management services will tailor your ad to work best on your platform of choice.
We also design campaigns that perform across platforms if you run your business on more than one. We will leverage the unique features of each advertisement facility and target their algorithms appropriately. Despite these differences, your customers will have the same exemplary shopping experience everywhere. As will the ads whose metrics will be for the better, irrespective of where they're placed.
The need to get onboard the ppc ad bandwagon, combined with your entrepreneurial enthusiasm may compel you to go ahead with it yourself. However, it's best to hire an eCommerce management company instead.
PPC advertising may sound simple upfront but is a complex process to execute. There are many rules you'll have to follow for compliance reasons. These rules vary by platform and change over time too, so you must keep track of them constantly.
Your content must be altered as soon as possible in line with the changes. Otherwise, you could risk having your ad taken down, or worse, getting your store deplatformed.
There are also various tactics involved that you must be aware of. Not employing them will not give you the edge in advertising you need to beat the rest. Without an eCommerce PPC agency getting involved, your resources will take an unwanted hit. It is sure to bring down your ROI and RoAS.
Besides these, there is the ever-evolving market where trends can come and go in an instant. You should be able to keep an eye out for these to keep up with them. Not doing so puts you on the back foot, missing out on the sales opportunities presented by the trend.
The sites' algorithms keep getting updated as well. The platforms are always innovating to compete against one another. Newer ad facilities and features get introduced on a regular basis. Technology updates also open doors to innovative ways of marketing. It's practically impossible to manage your business operations and watch all of these.
With our eCommerce PPC services, you needn't worry. We will handle the grueling minutiae of all things eCommerce marketing for your store(s). No matter where you decide to sell your wares, you will be guaranteed the following: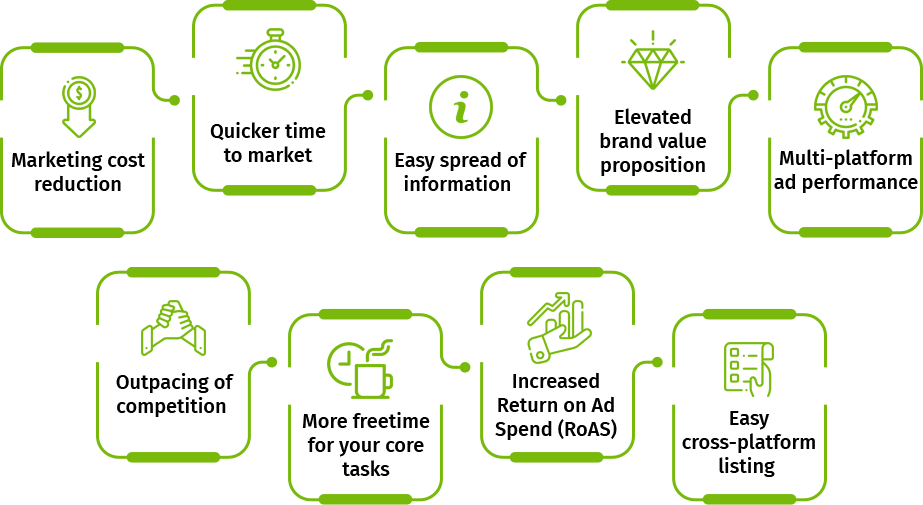 QuikTek Info's eCommerce management services deliver the best performing ad for every budget. The ads will be created by utilizing the best practices of the day, as well as the latest technologies.
We develop marketing strategies that take into account your business aspirations,objectives, target market, present brand value, market conditions, budget, and other such criteria. The strategies get evaluated through our rigorous test cycles. Only the best performing ones will be chosen to lead your ad campaign.
These chosen strategies will be executed in a time-bound and budget-conscious manner for maximum ROI. We'll ensure that they appear in every format of your choice and on every type of search results page.
This way, we become the eCommerce PPC agency that increases your brand visibility and trust. This happens as we push up the virtual footfalls to your stores.
The campaign will be compliant with the regulations of the individual platforms and the regional ones too. You can rest assured that your ads and online business won't face rejection by either. The strategies will work their magic in raising the position of the ads on SERPs.
We monitor the performance of your ads constantly against set goals they are intended to achieve. Prominent KPI's like CTR, Bounce Rate, etc. will be noted for every ad that goes live. The data thus gathered will drive all of our eCommerce PPC services' future decisions on ad campaign strategy redevelopment and execution.
What We Can Do For You and How
Targeting Platform-Specific Facilities For Effective Customer Targeting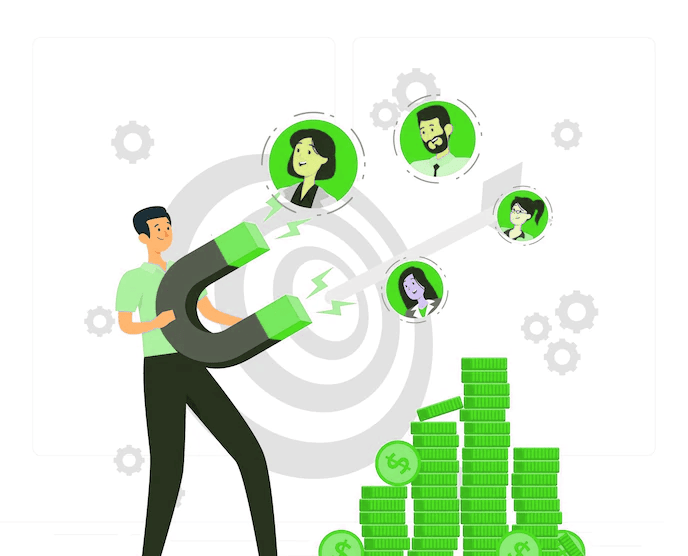 All eCommerce platforms go about paid advertisement differently. The rules, layout, features, cost, etc. will vary accordingly. Our experts are aware of the differences between them all. They will tailor the same ad of yours for each platform according to those parameters. With the increased visibility from such alteration, you can target visitors there more effectively.
For instance, we bring our experience as an eCommerce management company for your Amazon PPC bidding requirements. We will determine the optimal timing, bidding price, ad spot, keyword, and the targeted ASIN for each.
Our pricing strategy for the bids will keep your budget in check while giving you the winning spot. This includes our bids for the best-performing keywords too.
The competitive nature of the bidding process and the allure of the benefits of a successful bid can mislead sellers/vendors. It is easy to lose track of the money and end up with poor RoAS for your products.
Your brand reputation and visibility will also be hit due to lower frequency of ads. Our eCommerce management services can stop that from happening and steer the situation in the opposite direction.
Then there's eBay's classic auction sale that is time limited. Here, your customers bid for the product you've placed for auction. The highest bidder within the auction period gets to take it home. For your customers to place such high bids, they must see the value in the product you're offering.
Paid ad campaigns for your eBay products are means to introduce the value of your products to your target audience there. We, as your eBay eCommerce PPC agency, will create ads to spread awareness of your upcoming auctions.
The duration of the campaign will be one of balance. It won't be so early as to waste precious ad spend, but not so close to the start date as to miss out on many customers.
Thus, our platform-specific ad campaign development and deployment will cover your store's multi-platform marketing needs. The ads' content will be carefully curated to achieve the desired visibility and interest levels. We keep it format-specific to better optimize the ads too.
Single, still ads will only have the product image, price, and title, with little to no description. Our eCommerce management services' banner ads, on the other hand, can contain a lot more. Still or moving images along with dynamic text in brand-specific fonts and style are the norm. However, there is always plenty of room for customization.
We drive such meticulously planned and implemented platform-centric ad campaigns for one reason. It is to capture as many high-converting customers as possible for your every ad effort. The ads are the gateway for your leads to confirm their choice of shopping on your site instantaneously.
With us as your eCommerce management agency, they'll add more revenue and trust into your brand name with every click.
Utilizing Every Type Of Applicable PPC Ad For Your Business
Legacy ads came in various formats. You had still-image billboard and newspaper ads, video ads for TV, audio jingles on Radio, leaflets with simple text only, etc. The digital ad space too is flush with opportunities for advertising in several formats.
And our eCommerce PPC services will opt for the ones that best suit your business criteria like objectives, budget, time/duration, and advertising platform choice.
We provide the following types of ads for your benefit:
Search Ads

Where better for your ad to appear than right on the search results page of the most popular search engines? While SEO works its way to the top of the rankings on SERPs, your PPC ads will already be present there.

With most internet traffic beginning via search engine results, you'll be well poised to garner attention for your products and brand.

Most suited for one-time promotions and other short duration marketing, search ads make up most of the paid online ads. And our eCommerce management services give just that kind of attention to these types of ads for your business.

We create ads that fit the text-link format found here. They'll contain the correct keywords in the title tag and meta description. This move captures the attention of both visitors and algorithms alike. It is one of the best ways to open up a new market segment for your brand, and we'll make it happen.

Amazon Sponsored Ads

Amazon has introduced some special advertisement opportunities for its sellers. When you opt for their PPC ads, you get to bid for your ad spot on the front page of the site.

You can also choose between sponsored product, brand, and display. They will each place ads for the respective aspects in different locations that best draw attention for each type.

With QuikTek Info, you get an eCommerce PPC agency that knows its way around Amazon's advertising quirks. We will create the right mix of each type of sponsored ad to bring you maximum benefit from them all.

They are guaranteed to bring in the traffic you are seeking to the right location. You can redirect visitors to your product listing or your brand's storefront as the need may be. We also ensure to keep the cost-per-click as low as possible for maximum ROI.

Social Media Ads

Social media is the one ad avenue that you simply cannot dismiss if you want wide brand visibility. Ads by our eCommerce PPC services ensures that their users won't dismiss your products.

The world just can't stay away from logging into these sites for large portions of the day. They're also the hub of various types of online activities, including shopping. The greatest advantage these sites offer to advertisers, however, one that usually flies unnoticed:interactivity. These platforms are purpose-built for interaction and PPC ads fit in very nicely here as a result.

The other advantages these sites offer are long attention spans, mass gathering of diverse people in one spot, global presence, vast collection of user data, easy integration of account links anywhere with APIs, and plenty of ad space. They are ripe for an eCommerce management company like ours to leverage for your benefit.

We go all-in on social media ad campaigns, putting out every type of ad available. We also focus our efforts on advertising via your account page. They will be tailored to appeal to the interests of a highly-targeted audience.

The ads will also be altered according to the platform. For example, LinkedIn ads will have carousels and polls with a formal outlook while Instagram ads will be filled with images about your products with every mood.

These ads are best suited for brands that have a high social media presence and activity levels. Our eCommerce management services will also give a boost to your brand's social media presence and interaction if needed. We help you unleash the chain-marketing potential that's present in this space.

Email Ads

When it comes to naming online store ad platforms, social media, search results pages, and the eCommerce platforms themselves pop-up. The one channel that gets left out, but has a lot of potential to deliver is email. The email format incorporates the best aspects of display ads in a compact package.

Email ads deliver your brand message and product information personally to every potential lead. This personal touch helps build a stranger connection with them. As an experienced eCommerce PPC agency, we will give you this avenue's full advertising benefits.

From the subject line to the CTA button, everything will be created based on the target audience data. Their preferences will be intertwined with your objectives on which the ad will be based.

We go creative with our email ad campaigns, infusing humor if possible. There will also be splashes of your brand's colors in the graphics and images used.

You can choose to have a single CTA button linking directly to your store, embedded links in every product image, or a combination of both. Links to your social media pages can also be added by our eCommerce PPC services for a more personal touch.

It is recommended to go with email for quick responses to short duration promotions. Sponsored ones, like Google's Gmail sponsored promotions (GSP), are also another option.

They open up the pay-per-click platform to include click-to-call too. You can convert at any point in the sales funnel with the direct calling facility. Your leads can call you directly and complete the sale. Thus, you get high-quality clicks with high RoAS.

In-Stream Ads

Youtube, TikTok, Reels (by Instagram), Vimeo, etc., are ruling the roost when it comes to grabbing people's attention. They offer non-stop video-based infotainment for hours on end. They also provide prime advertising slots that an eCommerce management company like ours can exploit for you.

In-stream ads come with the advantage of attention-grabbing via sudden disruption. The viewer will be introduced to your ads mid-stream. At the very least, they will check out what the ad is about. This short interval is enough to pique their interest and increase lead generation. This is why this ad type is very popular.

Video ads constitute the bulk of the ads here. Still ads with links to product pages can also be implemented. There's also the provision to include mini banners at the bottom of the video. These can be dynamic or still, and most likely with embedded links in them.

Our eCommerce management services can deliver the right ones for your business. We also design such ads for youtube search results page and partner sites. They are suited for on-going sales and short duration promotions.

Display Ads

Screens are everywhere today, and everyone is staring at one for long periods of the day. It is the place to be if you want your products and brand name to be seen. As a full-fledged eCommerce PPC agency, we'll ensure that your ads will occupy those screens and their viewers' minds without fail.

We proceed by developing ads with the best mixture of text and images for a given display ad type. The images are chosen to showcase your product at its finest.

Product photos providing a 360 degree view of it are used wherever feasible to demonstrate its every feature and design element.

We design ads that fit any type of space required. There will be banners, still-image ads, dynamic image ads (like automatic 360 turn-view images), teasers/ short video clips, etc.

We are an eCommerce management company that also provides ticker/streaming ads and carousels. These are most suited for displaying multiple products in a short duration without occupying excess space.

While we offer this service to everyone, we recommend it for those seeking patrons for niche and luxurious products. These also work well if the duration of the product sale is long. These target Google's partner website visitors to capture any leftover leads from the search ad segment.
Localization and Remarketing Ad Efforts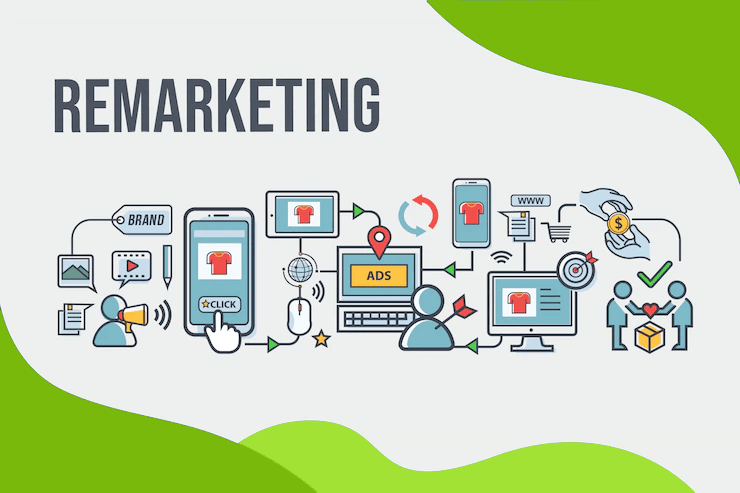 It is evident from the actions you have to take to obtain paying customers that it's no small feat. It's why having an eCommerce management company as your partner is vital to succeed.
Losing such customers after successful sales is a losing proposition for your business. You'll have to expend more resources to bring them towards you again. It is especially needed if they haven't visited your store in a while.
We will make sure that it doesn't happen with our targeted remarketing efforts. Through remarketing ads, we'll maintain your high-converting customers' attention towards your brand.
We use the customers' previous purchase history data to target them repeatedly with ads. These ads will be designed to get them interested in purchasing a product again. Such ads by our eCommerce management services can interest them in a different one too.
They'll also carry your brand's elements that reminds those customers of their previous positive shopping experience. The memory acts as a strong pull to bring them back to your store.
The advantage of having a high-converting customer return is the reduction in ad cost. You also effectively double your RoAS when they repurchase a product. The competition is lower here as the person has already visited your store at least, if not converted.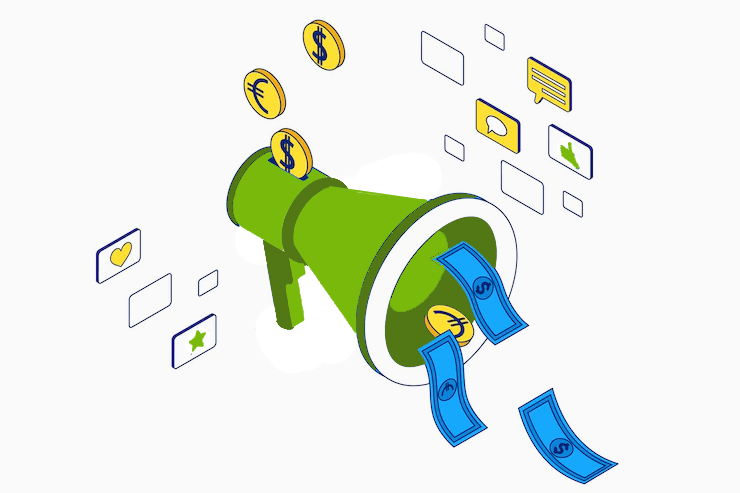 The highly targeted approach using personal data increases the chances of click throughs. It gives more personal data about the customer when they browse and/or purchase other products.
As a data driven eCommerce PPC agency, QuikTek Info will furnish this new data for better remarketing campaign strategizing. It will get mixed with previously available data to create a personal profile of the customer. We can then go ahead creating a better targeted ad development process.
Localization is another great way to keep the brand relevant and customers engaging. Familiarity is known to build trust easily, so locals finding a business with familiar vibes can get the sales moving quickly.
Targeted messaging blended with local flavor helps accomplish this goal. Small businesses located in the area will benefit most from this type of an Ad campaign. Our eCommerce management services will give your business the local touch it needs.
We will study the demographic requirements of the locality and align your messaging to it. We'll work to connect your ads with portals like Google My Business to serve local services ads. Your ads appearing on platforms like GMaps and Local Search will boost your presence among the local populace.
The good thing about local services ads is they work on a pay-per-lead model. It means you only pay if you get a lead from the ad. Our international team of experts astutely gauge what will and won't work in their respective markets.
That knowledge is then used by our eCommerce PPC services for effective localization of your multi-market business. We take a data-centric approach, collating user purchase history and other relevant data. That data will be utilized for the development of an effective localized marketing strategy.
We can modify your present strategy or develop a new one as the situation demands. We will identify the strengths of your business and the gaps in it that need to be plugged. The marketing, and by extension business strategy, can then be used to plug those gaps. This move also brings customers closer to your brand due to better communication and outreach.
The Advantages Of QuikTek Info As Your eCommerce Management Agency
PPC Ads prompt potential leads to click with a Midas touch that can turn your fortunes around. By leveraging the power of modern technology, they assist your eCommerce business regardless of the distance between you and your customer. They, in fact, bring that customer closer to you, and your brand closer to them.
When such is the importance they hold in your online sales journey, their accurate development and deployment can't be neglected. That accuracy is achieved by QuikTek Info's eCommerce management services.
We take a multi-pronged approach towards achieving your targeted ad campaigns goals. It is a confluence of our many online business support services of which PPC management is one. We are able to harness the advantage these services bring to the table and render your PPC ads very likable and click-worthy.
We help your online seller business with the following advantages:
Accurate Account Audits

No matter the platform your business is on, we can peer through its status. We check its most vital aspects and determine how well it is set up and what needs to be improved.

This effort by our eCommerce PPC services keeps away inaccurate information and poor-performing products from your stores. You will be left with accurate information and fast-selling products flying off the shelves. They'll also carry the message of your brand far and wide.

Greater Market Awareness

Market research is a must-do activity to gain the true picture of your target audience. It reveals their likes and dislikes, their motivation to buy a product, their financial status, their capability to purchase a product, etc. It helps shape your PPC ad campaigns to better suit these criteria for higher ROI.

As a wholesome eCommerce PPC agency, QuikTek Info conducts multi-channel and multi-source market research. We gauge the timing of the survey and devise a well-suited action plan to implement it. The survey will cover various means of information gathering mechanisms for a wide coverage.

We also take into account your competitors. They form a vital component of the market as well since they are competing for a share of the same. We will study their every move and posit their moves. We'll even study their storefront setups and advise you on how best to beat them.

Bespoke Marketing Strategy

Every online business works differently despite being in the same domain. Your marketing strategy must match your unique business objectives. Our eCommerce management services will devise just such a strategy to realize your sales potential.

We evaluate your existing strategy for its ups and downs and modify it if required to improve performance. We check the theme used for your storefront design against your logo. If they don't gel well, we alter that too for better brand visibility. Thus, your strategy will get optimized for improved ROI.

For newcomers or old sellers underperforming, we develop a suitable marketing strategy from scratch. It will be driven by customer data consisting of their every available detail, your business operations culture, and your competitors' status.

Ours is an eCommerce management company with experts having years of experience in the field. They will know what the ad campaign should be about and how it must get executed for the best results.

Customized Ad Content Creation

A bespoke marketing strategy deserves a diversified and creative multimedia ad content. The content is what turns mere concepts into reality. Technology offers a plethora of options for the type of ad media that you could have.

However, the choice must be based on the demand and brand requirements. Some work in situations where others won't or simply can't be incorporated.

Our eCommerce PPC services are a gamechanger here. With our grip on the eCommerce Ad space, we will produce the appropropriate ad for any given ad channel. We are experienced in creating ads in different formats, so your brand visibility issues will be a thing of the past.

Our skilled personnel of graphic designers, video editors, copywriters, and SEO will weave together PPC ads that's brand-centric and appealing. We blend your brand identity like logo and associated colors wherever possible for easy identification. The ads will be keyword-oriented for the best shot at visibility on every SERP.

Short and long-form videos, including animated ones, are made possible by our eCommerce management services too. The carefully selected images, text, and audio can capture your target audiences' attention and compel them to click.

And when they do, you ratchet up sales and RoAS while building a stronger brand presence.
Your eCommerce venture(s) will also benefit from us in the following ways:
Lowered Operational Costs

Costs can quickly balloon out of control if not controlled rigorously when selling online. Even a modest store needs a significant amount of investment to handle its various functions. Ad campaigns can extract a noticeable size of that budget. If done poorly, that chunk only ends up as waste.

Making us your eCommerce PPC agency will prevent marketing budget overruns. Our services are always kept at low rates to make them accessible. You get the excellence you need to have the best ad campaign at affordable rates.

You can even customize our offerings to suit your budget constraints. Thus, we ensure that your ROI and RoAS remain on the higher side always.

Quick Turnaround Times

Your time to market will no longer be plagued by delays when you partner with us. We are equipped with the latest in technological tools to create ad content in record time.

Our experts are experienced and always up-to-date with the latest developments in the field. They can develop and implement effective strategies in record time. With our eCommerce PPC services, your sales targets will be met in the target time scales. It also helps in beating the competition to the sale finish line.

High Data Security and Privacy Standards

Cybersecurity threats are an ever-present danger to every type of business. We care about your online store's sustenance, hence we've implemented the best data security and privacy practices.

Your data will remain behind walls of the latest data security software constantly. Our security-oriented operational protocols only give access to your data to a limited number of personnel at once. We keep your files encrypted for added security. More Time

Running an online business is a laborious, time-consuming process. Doing it across many platforms is that much harder. No amount of multi-tasking skills can help you succeed. Having us as your eCommerce management company alleviates most of that responsibility.

We will handle your PPC management activities, freeing up your schedule for more pertinent tasks. It'll help you remain in a mindspace that is conducive to making successful business decisions. You won't have to deal with additional stress and tension. The calmer mindset helps develop a better-informed decision.

Collaborative and Supportive Services

We let you lead the PPC ad campaign process from the beginning to the end. Your objectives and desires will serve as our guideposts towards ad development and deployment. Our experts can even guide you if you're unsure of the direction your campaign should go.

We are an eCommerce PPC agency that is always available to its clients. Our customer care executives will come to your aid at any moment. They will clear any doubt you may have regarding any aspect of your project. And it will always be done in a friendly manner.
Outsource Your eCommerce PPC Services Requirements To Us
Gain high returns on your investments, increase your RoAS, polish your brand image, spread its visibility, and expand your outreach. We cover your every platform's PPC needs and more.
Just Contact us, and we will get right back. You could also email us at mail@quiktekinfo.com or call us on +44 203 514 2601 | +1 585 283 0055.
FAQs
How is RoAS calculated?

The Return on Ad Spend is a vital metric to determine how effective an ad campaign is for an online store. It is calculated by considering the total returns generated by sales during a particular ad campaign period. That value is then divided by the total ad spend money to get the result. It's simple to calculate but very informative too.
What's the difference between Amazon's PPC auction and eBay's auction?

Amazon and eBay are both popular online sales platforms with varying sales promotion options. Amazon lets its sellers bid for a PPC ad spot and keywords on its pages. Ebay's auction, on the other hand, is about the direct sale of the product itself and not the ad spot. Buyers have to bid for the product within a stipulated time to win it as a purchase.
How soon can I see my Ads on my choice platform?

PPC ad campaigns are planned and executed over many weeks for effective results. Each platform and ad format has different return schedules. Amazon for example will have your ads up in a matter of days if they are automated ones, Manual ones will take 8 weeks or more to manifest. Ads on Google SERPs also take a few days to appear. Ads dependent on any SEO aspect to promote themselves through the ranks will take months to show up.
What additional services will help with my Ad campaign?

Managing one eCommerce store, let alone multiple ones across platforms, can be next to impossible. Outsourcing your PPC management requirements will help you immensely, but you can do more. Hire an eCommerce virtual assistant to go along with the PPC services and watch your business rise up. The assistant will handle most, if not all, of the tasks that you have to do otherwise. You'll have a lot more time on your hands to focus on the important business decisions while letting experts manage your business to its best.